The Wild & Colorful World of Jon Anderson
By Ron Lehocky (Originally Published in Polymer Arts Magazine by Sage Bray Varon 2017)
Jon Stuart Anderson has worked with polymer clay for 27 years. Regarded as a master polymer artist, fellow polymer artists marvel at his ability to construct the magnificent complex 3-D canes which emblazon his animal sculptures, bowls, jewelry, and guitars. Collectors and admirers crave to know more about this enigmatic genius whose work we can find in art stores around the country. Much to our delight, he has recently emerged from his self-imposed isolation to share his work and his thoughts on art and inspiration.
Today Jon is involved with social media. He was the one of the featured artist in Polymer Journeys 2016 and is also frequently highlighted by Cynthia Tinapple on Polymer Clay Daily. He has also graciously opened his studio to polymer artists visiting Bali, generously donates remnant canes to my Heart Project, and, most recently, has put his canes up for sale.
Becoming the Artist
Jon was born in Chicago in a family of artists; art was his destiny. He was encouraged to make toys out of clay and recalls his first terracotta animal made at age 3.
His parents adopted a nomadic life style and by age 12, Jon had attended 14 different public schools in several states. As the "perpetual new kid" who was susceptible to social stressors, he "began carrying a 5H drafting pencil to ventilate bullies with." He always carried a sketch book.
Jon also found solace in reading (favorite early books were Walden by Henry David Thoreau and Stalking the Wild Asparagus by Euell Gibbons). He is still an avid and curious reader, an intellectual with a vast knowledge of the world, science, art and history.
Jon's ultimate happiness is found in nature. He loves growing anything and recalls with fondness working on a blueberry farm with "earthy people."
"I was the poster nature boy," he recalls.
The love and inspiration of both plants and animals are commonly combined in Jon's forms and imagery.>
Even today, in his compound in Bali, he surrounds himself with a variety of animals, including his pigs (Francine and Lincoln), and takes pride in his garden of medicinal herbs and vegetables. He relishes the smells and textures he finds in the naturalness of Bali. Although Jon was educated in art, he received his master in Botany from Texas A&M. Now he lives where both these interests are pursued in harmony.
Early Years
Jon filled his early twenties with travel adventures and psychedelic influence while continuing to study art. His early influences were the underground comix movement and the graphic and psychedelic illustrations of Rick Griffin whose influence is still visible in some of Jon's caning. It was some of Rick Griffin's old pen and ink work which formed Jon's idea of bringing back images from hallucinatory experiences.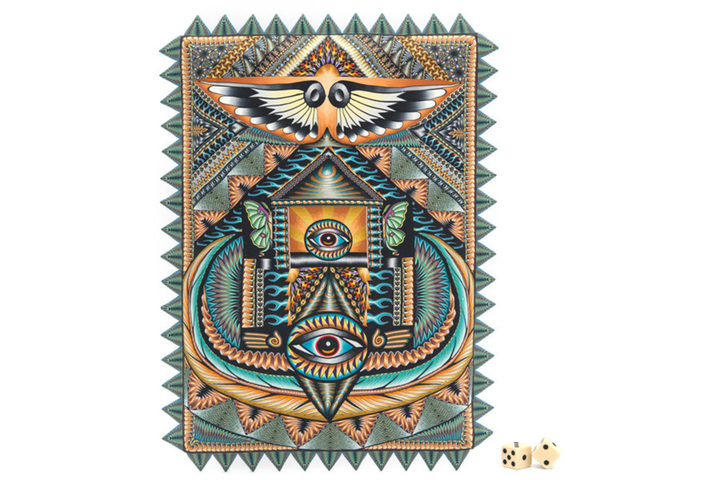 De' Elites, 2015. Polymer. 12.8 x 9.2 x 0.4 in. The composition and imagery of this piece are reminiscent of Rick Griffin's posters.
In 1989, Jon settled near Sedona, Arizona, and became associated with Robert Shields (www.robertshields.com), who operated several galleries in the area. Jon loved making art and became a "ghost apprentice" for Robert Shields Creations; whatever Jon made or painted was signed by Robert Shields. Living in meager settings, Jon worked for RSC in a Mexican border town making jewelry with several Mexican women while working on his wood sculptures which Robert sold in the Sedona galleries.
In 1990, after noticing an ad in Ornament Magazine selling Fimo beads for $3 each, Robert presented Jon with 3 rock hard blocks of clay and a copy of The New Clay by Nan Roche (whom he calls "the Saint") with instructions to "become the best at it."
"It took me sleeping with the 3 squares of Fimo in my pockets before it became malleable. With the book, I managed to make a string of the most butt ugly beads. Then I looked at the Venetian blinds in Kathleen Dustin's Vacuum Venus and understood that even though my first try was awful, I understood the concept enough to be dangerous. Falling asleep was hard as I kept actually seeing what to do on the backsides of my eyelids."
He eventually got the colors he wanted along with an old blender and began his journey as a polymer artist.
"To get the most out of Fimo, I made canes that were rectangular with designs of petroglyphs and other southwestern stuff, sliced them with a single edge razor blade, and drilled them by hand with a tiny bit using bee's wax for grip. I was as happy as a pig in poop."
Creating jewelry under the supervision of Robert Shields was at first "a fun way to make some money" although he wasn't allowed to sign his own pieces. The redundancy of productivity, however, stifled creativity. He had to make what his art director wanted and not necessarily what he liked. Although, Jon says, "doing so bulked up my self-discipline."
As the company grew, Jon began making his distinctive animals which were exclusive to and signed by Robert Shields. The turtles were among his first.
In 1993, Robert Shields offered Jon the opportunity to resettle in Bali and he jumped at it. "I've never been content in America unless I was on a farm," Jon says. Bali offered him the primitive natural setting that he craved. "I connected creatively with Bali like a clown fish in a sea anemone."
Eventually Jon formed his own business and began signing and selling his own creations while maintaining his friendship with Robert. "He is one of the most loving men and caring friends I ever met."
A New Culture, a New Home, and New Challenges
In Bali, Jon immediately felt at home. It was "the comfort of living in a vibrant non-Christian society that is almost devoid of guilt and judgmental people. The family unit still functions; old folks are highly respected." Jon also enjoyed the mythology that defines the culture and, becoming fluent in Indonesian, he joined in and observed Hindu ceremonies and holidays.
The area he lives in is what he refers to as a "geographic sweet spot" that allows 3 rice harvests per year. "Easy food leads to free time," thus "the Balinese are highly adept at carving, painting and sculpture." Jon adopted much of the culture of Bali as well as drawing inspiration from it. This piece is fashioned as the bird-like creature Garuda, a half eagle, half human form that appears in Hindu and Buddhist mythology.
In 2005, Jon's life took an abrupt turn for the worse. En route to Bangkok, he developed a high fever which turned out to be Japanese encephalitis. The illness has a high mortality rate (25-30%) and if survived, leads to significant cerebral problems along with tinnitus, seizures, headaches and personality disorders. Jon was lucky to survive, but unfortunately needs to contend with memory, attention, and speech issues as well as mood swings. Jon is a strong self-disciplined person who does not yield to limitations, but uses his skills to overcome the deficits; he still has excellent reading retention as well as all his artistic and creative skills. "I hit an iceberg of Titanic-sinking size, yet remain steaming ahead."
Most recently, after years of working with clay, he has had to have extensive surgery on both hands including thumbs and wrists. The surgeries were successful and Jon is getting back to work, although he is only up to about 5 hours a day.
"Working with polymer clay is my life as bread and yeast are to a baker. Polymer clay gives artists the opportunity to create graphics in a way that no other medium has allowed," Jon says. "I can honestly say that, in one way or another, I'm engaged in PC thought or work 80% of my waking day."
THE ART
Jon works exclusively with Fimo Classic and his animal creatures are made entirely from polymer. He uses an industrial food processor and makes his own rolling pins by pouring acrylic resins into PVC pipes of various sizes.
His work is derivative of no other polymer clay artist. His attention to detail, pleasing, soothing color palette, and caning complexity make his work readily identifiable. His myriad of canes are compatible in tone, and when reduced, are applied so as to blend into harmonic designs. The individual canes do not "shout out" but synergize into an overall alluring "gestalt." Only when we look closer, do his amazing masterful images emerge and astound the viewer with their detail. His pieces have the complexity of a psychedelic art poster, filling every available space with tantalizing imagery.
Jon's artistic influences include not only Rick Griffin but also Hieronymus Bosch and the Warner Brothers' cartoons of the 40s and 50s. "The closing sequence where Porky Pig says, 'That's all folks!' is where I got the first idea to make my color blends."
"Making canes has changed the way I draw. If you look at my work, you will see that I repeat certain patterns like the stepped frets that seem to be ubiquitous [in Greek and Navajo images]. I find the repetition gives my work a unity over the years."
Jon often makes sketches of his canes and then during the fabrication of the cane has to consider the shift of dimensions and readjusts accordingly. "I draw compulsively. I find it difficult to eat dinner without a sketch pad and pen. Eighty percent of my work comes from these informal sketches."
The four illustrations of a dancing man you see here show how Jon builds an "overall design that conveys movement without needing to travel outside of itself." The guy on the first drawing to the left is what he calls the root. "Once I check that this half triangle will register with its mate, I can make a larger cane of that root only. After reduction and cutting, I am able to build a cane to the desired size. Often, I will make a big root and cut it in half. When the two triangles are so large it is easy to assure that the lines match up."
In this case, he used Photoshop to select what color blends are to be built and ensure that the colors appear harmonious. It is much faster to use watercolor pencils, but when he commits a large amount of clay, he uses Photoshop.
He reveals a method which consists of taking an image (like the crow), breaking it down to its values, and then developing it into a cane from how the values are mapped.
"Once you find an image that works, break it up into areas of isolated values. Otherwise you will end up with a black shape. Invent areas of value if they don't exist. No rules."
The cane building process: From inspiration to sketch to the cane, and then the final rendering of the crow converted into a pendant.
I naively asked Jon if this skill to see and make such amazing 3D canes was transferred from the genes of his gifted parents. He replied, "No one has the natural ability to make a cane. The reason I am proficient at making canes is (that) I have been allowed to concentrate on making canes undistracted for 20 years. I am good because I used to suck." As a reminder of his growth, he keeps end cuts of all the canes he has made since the beginning.
Although Jon is best known for his animals, his canes adorn a wide variety of forms. Stylizing guitars with polymer was a project that began while he was hanging out with Dave Abbruzzese prior to his move to Bali. The former drummer for the band Pearl Jam gave him a bass guitar to adorn with polymer canes. It ended up looking like a NASCAR jacket and Jon put it aside to "rot out of sight." He thought he was done with the guitar idea until Ronald Reagan, Jr. encouraged him to attempt it again.
"I wanted very much from the beginning to use a guitar as a canvas [since] a guitar is a symbol of disobedience, revolution, rebellion, and every parent's worst nightmare." However, as Jon notes, a guitar is an object that is used, not something that hangs on a wall. But "it has a natural display function built into it and never fails to elicit curiosity," Jon goes on to say.
Moving a step beyond caning itself, Jon recently developed a unique image transfer method he calls Dermis transfer. This technique allows him to transfer polymer images on to textiles that can then be framed or used to construct items such as canvas shoes.
Other objects that Jon has covered or created include bowls, vases, lamps, wall art, and jewelry.
JON SPEAKS ABOUT COLOR
One of the features that makes Jon's creations particularly appealing is his unique color choices and desaturated tones.
"Color in nature follows rules, but those rules are biological to the eye. Looking out of my window, I can see yellow frangipani, magenta bougainvillea, amber-dying palm fronds backlit by the sun, terracotta roof tiles, moss that [is] almost black, but the green is there when the sun is shining. At 10 a.m., most of the colors have sun shining through them. At 1 p.m., the sun is shining on them, then the amber palm fronds will be brown. And if a cloud comes over, it will change again. The way I perceive color is with my eyes and what I perceive is chaos from moment to moment."
How does Jon recommend using color? "Be a vandal with color. Use that awful 039 mint to wrap [an] area you want to pop. A flawless color range looks contrived; like love in a pulp novel!"
Sharing these illustrations of an elephant, Jon explains his color philosophy. "It's an elephant in a box; so is Bali in a weird way! I think I break every rule on this, that's why I chose it. It's been Photoshop-filtered into a smear. The cold colors are below as the light source is above, which we know since there is a shadow under the figure. I use warmer colors as I approach the light source. Below the eye, it's polar. Above the eye, it's hot sunset. I pull warm colors into the belly and cold ones onto the back. This unifies the object in a more thermal sense than a color sense.
"I realize that this is an object from my mind. The laws of light and shadow are still followed, however. Light and shadow define your palette more than reflected color. So make your colors respect the light. When stumped, fill the area in black.
Jon also recommends creating your white for modulating colors. He uses 3 whites and often tints those if need be.
"I realize that a palette recipe is desired from me. If I had one, I would be in the same boat with you. There is no such thing. The best thing I can tell you is to embrace small scale experiments. Be fierce when you decide on what your vision to do something is. Nothing I can think of is more an exposition of self than the various forms of artistic expression. It's as intimate as it gets. Like standing in the highway buck naked. 'Here I am. Dig me! Or run me over.'"
BUSINESS MAN, EMPLOYER, PHILOSOPHER, AND GENEROUS SOUL
Not just an artist, Jon is a generous man who has developed a business model that benefits others.
His polymer clay community in Bali, founded in 1993, employs about 25 people. When he hires a person, he promises that they will never be fired. "The skills my helpers learn from me are of no use anywhere else in this country. That is why I promise that if they chose to work for me, they can sleep soundly and trust that they have employment for life." They are provided with comprehensive medical care, double the minimal wage at entry, and maternity leave payment. He operates a bank that is internal to the business and does not charge interest so that everyone can build their own home. He also runs his business in compliance with Hindu holidays. "I want everyone that works for me to be very proud and secure. I assume that they have the same desires I do: 'I do not care if I am rich, I just don't want to worry about money.'"
No one has ever quit.
Jon works with with his assistant Made (Mahdeh) Sudida, who has been working with him for 18 years.
He manages the operation at all times and assures quality control. With anything he makes, he tries to make it as close to perfect as possible, therefore no person is permitted to design or decide anything without his consent.
"I have never trained anyone to become an expert caner. I have broken down the tasks of producing components that make up a cane into small easily learned steps." His workers help in the color mixing and making of the blends. No one else makes a complete cane. "I have organized things so that one person performs very simple tasks. All those tasks end up in front of me. I compose the cane from the wall of canes [in the studio]." When asked about how he will want to be remembered, Jon replies, "as a friendly, distant, creative person who gave people jobs, food, respect, and shelter. My business is a labor of obsession and love. I am willing to make the sacrifices and gamble on the faith (in myself) to live my life. When I find myself regretting generosity as a weakness, [I] remember that one day I will face death very alone and will smile with gratitude that generosity was part of what defined my short stay here. I don't know what happens when one dies. I do know that money will have nothing of import though."
As far as a legacy, he shares this philosophy: "Improve what's under your feet and between your ears."
As Jon said in his mission statement in Polymer Journeys 2016, "I'm trying to do something that leaves behind a carbon footprint of beauty rather than destruction and, as an artist who works exclusively in polymer clay, give my chosen media the nobility it deserves." Indeed, he does and will continue to do just that.
Ron Lehocky is a pediatrician in Louisville, Kentucky, and an advocate for special needs kids and their families. Working with polymer since the late 80s, he has made predominantly wearable art, with the last 11 years dominated by his heart pins--38,500 to date--the sale of which supports the Kids Center for Pediatric Therapies in Louisville. Jon Stuart Anderson, among many other polymer artists, donates remnants and scraps to Ron's Heart Project. Married to wife Peg for 43 years, they have 3 children and 6 grandchildren and, somehow, he still works 4 days a week in the office.